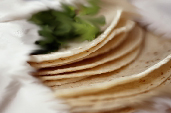 Mission
To provide free and fun cookery resources for everyone interested in food, eating and hospitality;
Visitor questions and comments are most welcome: please make suggestions for topics and information you would like to see on the site.
Cookery Terms
Tortilla - a thin pancake made from cornmeal.

Named by the Spanish conquistators - tortillas are an important part of the diet in South American countries. In Spanish cookery a tortilla is a flat omelette usually filled with potatoes, onions, or salt cod, which is cut into quarters like a cake.