Statement of Results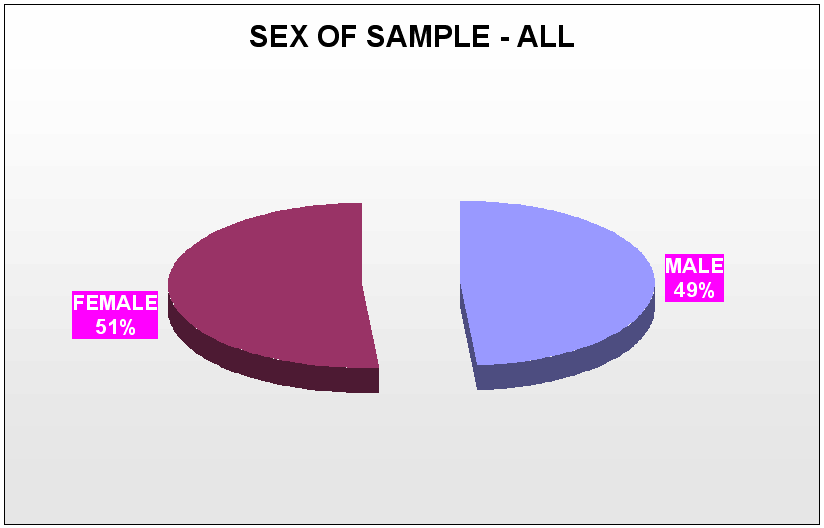 The sample returns appeared to be representative of the industry as they generally reflected the national statistics in Key Facts and Figures Hospitality 1999 Davie 1999. The sample equally represented the sexes (Figure 1) and some over half were taking the Food Preparation and cooking qualification. (Figure 2). A noticeable difference was that all full time students in college took more than one NVQ qualification at level 1 and 2, mostly food preparation and cooking and food and drink service some progressing to level 3 in a single qualification. In industry candidates almost always took only one NVQ, most wanting to or progressing to level 3. It would therefore seem that to some extent at least colleges provide a broader basis in qualifications offered. Most candidates took some additional qualifications other than key skills. All college students took the basic Hygiene Certificate and many took Welcome Host, though few took the health and safety certificate. In industry most took the Health and Safety certificate and all those in Kitchen work took Basic Hygiene.
Figure 2
Figure 3
Figure 4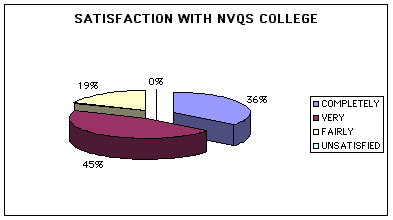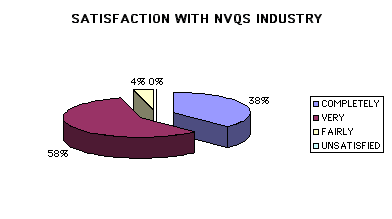 Figure 5
Figure 6
The satisfaction of the candidates (Figures 3, 4 & 5) with the provision was similar between candidates in industry and in college with no candidates dissatisfied. It was noticeable that a greater number of candidates were completely satisfied in industry this appears to be a result of a general attitude towards education of NVQ candidates that they have had "enough of school" or "like practical" but are not keen on classroom work or theory.
Figure 7
Key skills provision was found to be widespread though not all candidates were aware of the Key skills qualification they were taking. In colleges part time candidates did not take Key Skills and some level one candidates with learning difficulties were taking word power and number power rather than level one Key skill NVQs. The most significant findings were probably that candidates in industry rarely took IT as a Key skill and that some level two candidates were not taking any Key skill.
Attitude of candidates was not always clearly expressed but some clear patterns emerged with several comments from industry that off job training was "difficult to get to" or that there was "not enough". 21% of industry candidates complained of long working hours. Strengths were seen in the experience the greater realism and the permanent work. A major reason for choosing the industry route was "to earn money" or that they were already working, whilst the reasons for going to college were because students "enjoyed cooking" or to help them get a job.
In colleges problems had a different focus, for example "rooming problems" occurred quite frequently and some students have problems with course work, portfolios, spelling, "maths"" and IT. Strengths were seen in the preparation for work, the staff, "good practical lessons", "sound basis for a career, and the ability to work in different areas.
In industry reviews on progress are carried out every 13 weeks with the candidate as a method of feedback these were supplemented by "talks with the chef, and assessment presumably with the visiting assessors. In colleges tutorials, diaries, file work and assessments appeared to be the more common method of feedback with reviews only used in some colleges
The 53% felt that NVQs were helpful mainly in terms of "jobs", and career. In college a few students wished to progress into higher education or believed a recognised qualification was helpful. 12% of the sample said they would choose a different route outside the industry whilst fairly satisfied with the current situation.
The results of NVQ questionnaire for Lecturers and training providers were broadly in line with the candidate survey in so far that the qualifications offered followed a similar pattern. All respondents stated that they delivered all key skills with the exception of IT in industry. Industry offered Health and Safety qualifications whereas colleges tended not to. Some staff in colleges still believed that the old City and Guild qualifications that were replaced by NVQs were better and indicated that they were forced to change to this route. The main reason for offering NVQs was demand though 15% employers said that they offered them as a means of getting staff whilst others used them to retain and motivate staff.
No one was dissatisfied with the route with the overwhelming response being "very satisfied"
Figure 8
The length of time candidates took to complete an NVQ varied but did not appear to reveal any underlying pattern. In college the standard course length was two years, though students took up to three years. Some of these were studying up to level 3 and most were undertaking two NVQs, Food Preparation and Cooking and Food Service simultaneously. In industry most candidates only took the one NVQ at a time and many including Modern Apprentices took level two followed by level 3.
The main strengths of the college route were seen as the structured nature of the delivery and that they were less stressful than in industry. Problems highlighted were the realism of the practical work the retention and motivation of students, the amount of paperwork and the attendance of students. In industry the lack of off job training and the workload for employees were seen as the major problems. The strength were seen as the realistic nature of the practical work, the motivation of trainees to gain the qualification and to stay in the workplace and the visits of external assessors to organise the assessment process and reduce the workload for staff.
The structure and feedback in industry was based on assessment plans arranged for individual candidates usually by assessors from external training organisations. In college a variety of responses indicated different approaches still exist. These varied form individual planning to a formal structure of lessons and training including regular work placements. Modular structures were also mentioned. Feedback in industry was based on Reviews visits and feedback from employer, in college a variety of approaches seemed to be adopted with Action plans, reviews, assessment interviews and oral feedback all mentioned.
Three clear areas where improvements were needed in NVQs both in colleges and in industry emerged. Firstly the amount of paperwork needed to be reduced, secondly the standards were often felt to be too subject to interpretation and "not realistic enough" and finally the mirroring of the workplace in college practical work was felt to require improvement.
The issue of standards was again raised in relation to competence based assessments where responses from both colleges and industry indicated that the quality of the workplace and different expectations from establishments and assessors led to wide differences. Some responses form both indicated that the ability and motivation of candidate affected standards.
When asked to identify the differences in NVQs in colleges and industry a number of issues were raised which broadly reflected the strengths and problems of the route. Colleges were seen as more structured, slower and more standardised and to some extent dependent on effective work placements and Realistic Working Environments (RWE). They were also seen as delivering more theory and training but not sometimes not being in touch with reality. Industry was seen as more "realistic" and repetitive but dependent on the standards of the establishment.