These pages explain:
Set against a background of working in the Hospitality industry, these pages aim to help you accept payments by cheque

Whilst different organisations have different policies and procedures, general rules are still useful to learn and apply.
A cheque is a written authorisation to pay or order money from an account to someone else (called the payee).
Cheques are issued by financial institutions such as Banks, Building and Saving Societies, Post Offices etc.
People use cheques rather than carry around large quantities of cash because of the reduced security risk.
A normal cheque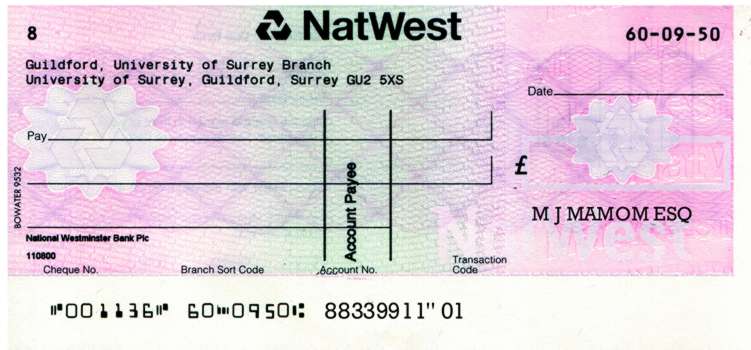 can only be used in the country it is issued and in the currency of that country. They can be crossed which means that only they can only be paid into the account of the payee and cannot be redeemed for cash, this is an additional security precaution.
a normal crossed blank cheque
A Euro cheque is similar to a normal cheque but can be accepted anywhere in the European Community and written in any currency.
A Travellers' Cheque is usually bought from a financial institution or travel agent. The cheque is signed twice once on issue and once at the point of use. Travellers' cheques have a face value in a particular currency.
A Company cheque these are normal cheques drawn from a Company account and are usually used to pay invoiced amounts for example the bill for a large residential conference. As such they do not often come with a valid cheque guarnatee card.
The picture below shows what needs to be filled in on a normal cheque: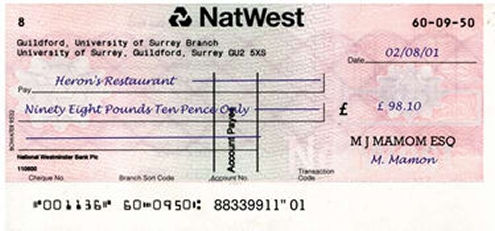 These are the main features of a cheque: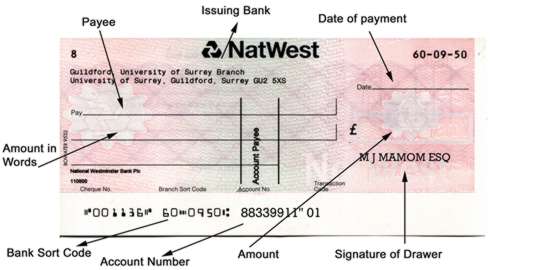 In some cases cheques are printed by the cash register and returned to the customer for signature.
In most cases to accept a cheque the customer must produce a guarantee card. This will show the upper limit to which the cheque can be drawn. In other words the bank or financial institution will guarantee payment only to that amount.
Suggested procedure for taking a normal cheque payment:
Issue the bill.
Make sure you see the customer signing the cheque.

Check the signature matches that on the guarantee card and that it is on the original paper strip!
Check the amount in figures and in writing is correct and does not exceed the card limit.
Check the card is valid and write the expiry date on the back of the cheque.
Write the card number on the back of the card and initial it.
Optional:
Check the bank codes match on the card and cheque
Check the card and cheque with the cancelled and invalid list (if you have one!)
Place the cheque in the till drawer
Give the customer back their card and receipt as appropriate.