So, what exactly do you find to do all day? A continuation of Week in the life day four.


Tuesday. Excitement!! I have received some post this morning - a small clothing catalogue from a USA company, a holiday brochure from London and a letter and music CD from a friend in UK. As usual the envelopes have all been torn open for examination at customs and badly stuck together again afterwards, leaving the recipient unsure whether originally the envelope didn't hold double the contents. However, the holiday brochure appears to be fully intact, though every female in a swimsuit is now in a lovely black neck-to-ankle costume. The clothing catalogue still has most of its pages (without even looking I know the underwear and swimwear pages will be missing). And the CD is still in its case, though I've no idea what was on the front cover, as it is now mostly black. Yes, the Representatives for the Office for the Promotion of Virtue and Prevention of Vice have had their black marker pens busy at work again, but at least my mail has arrived.

This morning I'm going to the souk, which is in the old part of the city. As most of it is outdoors it is hot and dusty, but worth the discomfort for the bargain prices to be had (providing you haggle) for anything and everything from household items and soft furnishings to electrical goods and gold jewellery. I'm not looking for anything specific, but it's always worth a visit. A disadvantage is that the area is always full of Muttawa, so more often than not I have to cover my hair, which doesn't help when trying to keep cool.

When I first arrive at the souk, I browse around the older part, the carpet souk, which is full of traditional hand woven carpets and rugs, and Bedouin style blankets and cushions rather coarse cloth with bright striped patterns in shades of deep reds and black. This souk is one of the most colourful of them all, as each shop or stall-owner hangs samples outside the front of the shop showing a vivid mass of colours The alleyways of the souk are narrow, and a little dark, which all adds to the atmosphere. You can hear the shopkeepers calling out their prices, each one trying to outdo his neighbour. As I come towards the end of the carpet souk, I smell the wonders of the spice souk wafting up to meet me. Now here it is very interesting, if not just for the aroma alone. The spices are not packaged in neatly labelled cellophane bags or nicely packed boxes. Here the herbs and spices are displayed in big open sacks, enabling you to look at what you are buying, run your fingers through it to sample the good strong aroma, and then haggle over the price. It is here you can also find lipstick, kohl, and mascara all in their natural form, straight off the tree or bush, and which the Bedouin ladies still use.
None of the plastic and glass packaged items we are used to seeing in the cosmetic shops at 10 times the price. From the spice souk I follow through to the mens clothing, an area I don&'t linger around as you never see women here, it is purely men only. I walk through it, passing by the stalls displaying traditional mens clothing which is worn by all Saudi men over the age of about 20. The traditional long white robes, known as thobes, also come in grey and black but this colour tends to be reserved for the winter. The headscarves which in Saudi are red and white check, or in the summer plain white, are known as guttrah, and the black band which holds the headscarf onto the head is called the iqaal. Amongst these shops and stalls are smaller narrow ones where you will see men sitting on the floor making the garments by hand. Other stalls sell bisht, which is the black or brown gown worn over the thobe, mainly seen in winter. The traditional leather sandals are also made here, and you can see them being cut out and stitched at the back of the shop which displays them. Other counters sell falcon-hunting accessories, ie the leather hoods, gloves and special perches needed for Saudi's national sport, and last but not least, some small counters selling the tobacco used for smoking the Shisha, or water-pipe. It's a mans souk alright.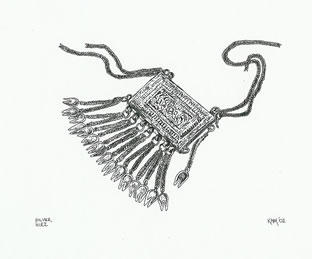 As I leave it behind I come into the Afghan and Iranian souks, where a selection of rugs and carpets can be found, as well as the huge patterned pots and vases made from copper and silver, plus a selection of Lapiz Lazuli jewellery all typical items from that part of the world and which are very popular here. Hand carved wooden chests and bureaux come from Pakistan, and are displayed outside the shops, almost blocking the alleyways, as I come into every womans favourite area, the gold souk. Now, here some very serious bargaining goes on, for buying and selling. Traditionally, when a Saudi woman dies her family sells all her jewellery. It is never passed down like we do. So it is just as important to be able to sell as well as to buy in these shops. The window displays are wonderful to look at, and are illuminated in such a way as to show the gold glinting and shimmering, enough to catch anyone's eye. There is a big difference between the type and style of jewellery a western woman is attracted to, compared to that which an Eastern woman will stop to look at. Some shops display only the Eastern style, some only the western/European style, but most will be clever, having western on one side of the shop and eastern on the other, with some traditional Indian (21ct and lots of filigree) in the middle. The main difference is that the Westerners and Europeans go for 18ct and fairly plain/simple/sleek designs (you won't find 9ct, and seldom 15ct). The Eastern women go for nothing less than 21 or 24ct which is very yellow by comparison, and the more elaborate the design the better. And the bigger the better. Big and bold is good.
Everything is sold by weight, so it is important to know the current price of gold per gram. I never knew there was so much to know about gold before I got here, but this is the place to buy it and I figure that if I don't get myself some while I am here, I might never have such a golden opportunity again, so to speak. The reason it is such a good bargain here is not so much that the price of gold is lower than anywhere else, but the cost of labour is so low here. There is silver jewellery on sale, though there isn't much, it isn't that popluar. Traditional Bedouin jewellery is always in antique silver, and there is plenty of that here, though probably more for ornamental use than for wear, as it is bulky and heavy, especially when set with stones too.

So, after my busy morning looking around the souk area, I'm ready for my lunch. Can't eat anything whilst out, or even stop for a coffee, as it is the month of Ramadan now, so restaurants, cafes, juice bars etc are closed until 5.30 pm, when the fast can be broken at sundown. Of course I can eat and drink in the privacy of my own home, but certainly nothing can be consumed outside during the daylight hours. So I have to find a taxi and dash home before I starve!! But not without going throught the great taxi malarky first. It's crazy. It's Saudi.