Kidney - Kidneys are a pair of glandular organs in the abdominal cavities of mammals and reptiles. Calf's and lamb's kidneys are amongst the most delicate. Pig's kidneys are larger and coarser. To prepare remove the outer membrane and the central core. Usually sautéed or grilled.
Kielbasa - A highly seasoned smoked sausage of Polish origin made from pork and (sometimes) beef. It is flavored with garlic and other spices. Can be served cold or hot.
Kimchee is a spicy-hot, extraordinarily pungent condiment that is served at almost every Korean meal. It's made of fermented vegetables — such as cabbage or turnips — that have been pickled before being stored in tightly sealed pots or jars and buried in the ground.
Knackwurst - A German smoked cooked sausage made from beef and/or pork and saltpetre to give it its pinkish colour. It is shorter and larger in diameter than a frankfurter and is highly seasoned with garlic. Eaten grilled or poached.



Lard - Melted down pork fat used for cooking. Lard is a solid white fat with a distinctive flavour and a high smoking point.

Larding - Threading thin strips of fat, usually pork, into a large joint of meat to keep them form drying out during cooking. A larding needle is usually used. The fat should be chilled to make it firm and can be seasoned or sprinkled with parsley.
Laverbread is a Welsh method of preparing and serving purple seaweed Porphyra umbilicalis or Porphyra laciniata also known as nori this a brown looking and fine and silky it was traditionally served mixed with a little oatmeal and fried in bacon or fat. Often dried first then soaked and washed thoroughly, wrung dry, then boiled in seawater for several hours, sometimes with a little vinegar. It is then drained and minced, it is black in appearance.
The seaweed is often imported dried from Scotland.
It can be mixed with olive oil, lemon juice and black pepper and served on toast or added to chicken stock and liquidised.
There are various versions of laver sauce, where the laver bread is heated in butter with a squeeze of seville orange or added to bechamel and served with lamb.


Liaison - A mixture of egg yolks and cream added to a soup or sauce to enrich and thicken it at the end of cooking. Velouté derives its name from the velvety finish that a liaison imparts to it.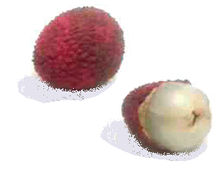 Lychee - can be spelled litchi - a chinese fruit also grown in the far east, the US and West Indies - The knobbly shell can be easily removed as can the stone. The flesh is white with a pinkish tin when ripe. Also available tinned or in an overripe form when they turn black. Can be served on their own, in fruit salad , with cream or ice-cream or as part of a meat and fish dish. The flavour is perfumed and slightly musky.